Understand the importance of cleanliness at school
Every day when students enter the classroom, use the bathroom, lab, or sit on the hallway wall, those places are clean, right? It is certainly because managers understand the importance of cleanliness in the school . 
And understanding how important the sense of cleanliness in the school is, the administration goes after the best school cleaning service providers.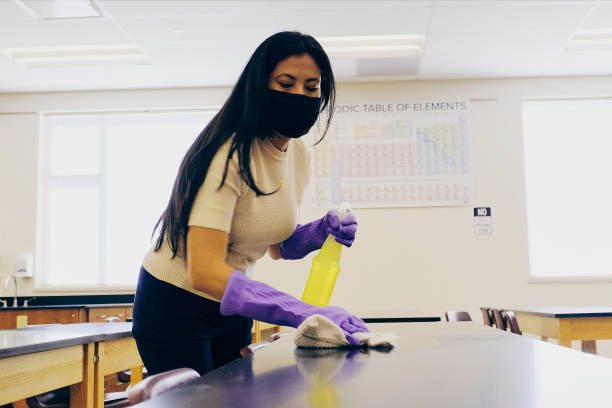 The commitment to keeping learning and leisure spaces clean results in better school performance by students, teachers teach more calmly and the entire general and administrative infrastructure works focused on their tasks. 
Not to mention that school cleanliness is a criterion that new parents will consider placing their child in a school and also to keep them where they are.
So, the importance of cleaning at school goes beyond following hygiene, health and well-being criteria. It is a value that every department must value and prioritize in investments.
To value this very important aspect in everyday life, producing a cleaning campaign at school contributes to the awareness of the entire school community.
Understand better the importance of cleaning at school daily and tips so that everyone can contribute to its maintenance.
How important is cleanliness at school?
School environments — classrooms, laboratories, library, canteen, courts, bathrooms, etc. — are used every day.
This use naturally generates dirt that is brought from the students' feet, food, activities materials, and the environment itself.
Now imagine this busy and intense routine happening every day without a cleaning team to sanitize and leave the spaces ready for use the next day.
This simple example makes it easy to recognize the importance of cleanliness at school. 
Entering a clean, smelling and organized space has a direct effect on students' motivation to learn and also on teachers' motivation to teach.
This infrastructure, considered basic, is also essential for parents and guardians to remain satisfied with what the institution offers for the well-being of students daily. 
As a public environment with a large circulation of people, besides being important, the sense of cleanliness at school is also an obligation under the law.
After all, invisible dangers — viruses, fungi, bacteria — surround the environments and it is the daily and periodic cleaning of school spaces that ensures that they stay away.
People with allergies or breathing problems need to study and work in spaces free of dust and dust mites that trigger allergies.
Therefore, it is very essential that school cleaning is not lacking in everyday life and that it is carried out with quality standards..
Complete your reading with the article: 'Should I pay a nightly surcharge for a third-party cleaning company?'.
Who cleans the school?
Professionals specialized in cleaning environments do the cleaning work at the school.
The school, which directly hires each person on the team can assemble the team, including them on its payroll, following all the laws and labor rights .
Another more helpful way to organize this sector is to hire an outsourced cleaning company . 
Suppliers already have teams of cleaning assistants ready and qualified to carry out the work as soon as the contract is signed.
In this way, the school can talk to the company about cleaning at the school, which tasks are essential for the maintenance of the space, special care, size of the school, etc.
Thus, in parallel to the education activities, the school will have a dedicated external team to carry out the cleaning work of the school in all its premises. 
Read also : '4 tips for hiring an outsourced cleaning company '.
The role of school cleaning campaigns
Hiring an outsourced cleaning service is an investment that everyone should value.
The sense that there is someone to clean up, so it's okay to get dirty should be banished from any educational institution.
Preserving and helping to maintain the hard work that the cleaning team puts in daily should be a duty of teachers, students and all school staff.
To reinforce this value in people's minds, creating school cleaning campaigns is a simple and easy attitude to put into practice.
The school can create a 'Sustainability Week' to discuss the importance of cleanliness in the school and the role of students inside and outside the classroom.
Other interesting topics that go beyond mechanical cleaning are discussing how the school disposes of waste, does the selective collection, and recycles packaging and other materials.
With these initiatives, besides teaching them to respect the team's work, students learn to expand their view of society. 
How to improve the sense of cleanliness at school
Campaigns are important actions and can be discussed in different classes, through posters, digital messages, and other formats.
To improve the sense of cleanliness at school, we can include other actions in everyday life, such as
Choose a qualified company for the service
There is no one better than a specialist provider to understand the importance of school cleanliness.
Companies understand so much that they train and qualify their professionals so that they perform all services with quality.
So, prioritize cleaning services for schools that are really qualified and have good references in the market to work at your school.
Do you find it difficult to search and find good references? On the Smart Cleaning Solutions website, we have a list of companies that provide Cleaning Services for Schools that will help you. Check out!
Keep an environment sanitization schedule
Besides daily cleaning, also called room cleaning, it is important for the sense of cleanliness at school to carry out specific procedures such as sanitation.
But what exactly are sanitizing environments for? Sanitization is eliminating or reducing undesirable microorganisms from spaces such as fungi, mites, bacteria, and viruses. 
For this, professionals specialized in this area use and handle special equipment and products. 
Understand ‌in this other post: 'What is the difference between hygiene and sanitization?
Do you understand the importance of cleanliness at school?
If it's your role to organize and hire a school cleaning structure, Smart Cleaning Solutions is the best way to find qualified providers in this and other areas.
Access the list of school cleaning companies, send a quote request to the companies you want, and receive up to five proposals within 24 hours.
Smart Cleaning Solutions is a platform that connects your company to the best suppliers in the market. Save time and get the best prices on the market!