Professional cleaning service in call centers
Typically, companies that deal with customer service choose "open-space" offices, structures that minimize barriers between employees to facilitate communication.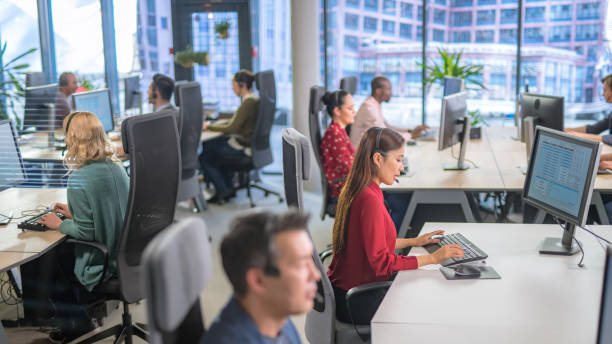 Given the absence of walls and closed spaces, open spaces allow you to work in smaller offices than traditional ones, saving companies on the costs of structures and furnishings.
Open spaces are therefore created to optimize work environments and structure costs, but above all to facilitate communication between colleagues and streamline the "workflow", to improve the proliferation of ideas and "problem-solving" . If in terms of communication speed, this type of structure is the most helpful, the lack of architectural barriers facilitates the proliferation of viruses and bacteria.
Precisely for this reason today more than ever, in order to reduce the risk of contagion of diseases such as covid-19 and other viruses and bacteria, it is important that the measures, frequencies, and use of cleaning products in call centers are adequate.
Below we will see why and how it would be appropriate to clean call centers. If you are looking for a professional company specializing in the cleaning of open spaces, call centers, and small and large offices, contact us for a free quote!
Why is cleaning important to call center offices?
One lesson that covid-19 has left us is that viruses are easily transmitted when we touch infected surfaces or are in contact with sick people. Being places where many people work close to each other, in call centers, it, therefore, becomes vitally important to have a cleaning service that has trained personnel and highly effective cleaning service and disinfection products.
When an infected person coughs or sneezes, they send droplets of contaminated saliva into the air, which can remain on surfaces such as telephones, desks, mice, etc. When another person places their hand on those surfaces, the microorganisms pass to their hand, which it could unconsciously lead to the face, mouth, or eyes, for example, risking becoming infected.
Current sanitary protocols require that workers use masks to avoid the dispersion of these droplets, but it is important to disinfect personal and common surfaces several times a day, thoroughly, avoiding sharing pens and other common objects, in order to minimize the minimal risk of infection.
The cleaning and disinfection of spaces, therefore, become of fundamental importance, and especially when you are in the workplace it will therefore be essential to be sure that the common areas, such as the dining area, bathrooms, and meeting rooms, have been adequately disinfected, especially before and after use, thus avoiding the proliferation of viruses and bacteria.
The daily disinfection of desks, telephones, computers, and various others becomes essential in call centers.
Cleaning in call centers
One of the biggest challenges in managing call center offices is cleanliness. If on the one hand, creating common spaces means saving square footage, on the other it means concentrating all the dirt produced in a single environment.
If the cleanliness of a call center is not adequate, the quality of the work produced is negatively affected and nullifies all the efforts made to create a comfortable and productive environment for the workers.
Often many elements in an open-space office are common and are used by a multitude of people, and therefore require particular attention.
But this is not all, the call centers are always used in their entirety, which makes it impossible to clean during working hours. For this reason, we need a company capable of guaranteeing efficient work in a short time, which, however, is always available for any emergencies during working hours.
Finally, because of the greater spread of viruses and bacteria in common areas, it is necessary to rely on partners who are trained not only in cleaning but also in disinfection and environmental sanitation to prevent possible infections.
In summary, for the cleaning of an open space office, we need to hire competent personnel who guarantee:
precise and reliable work that lasts all-day

cleaning and sanitizing the environment in a short time with the help of specific machinery

availability during working hours for any emergencies (cleaning bathrooms, floors, etc.) 
The professional cleaning of an open space that includes adequate disinfection and sanitization of all spaces, common and not, is necessary in order to avoid the proliferation of viruses and bacteria. If you are looking for a company that specializes in cleaning call centers, contact us for a completely free estimate and inspection!