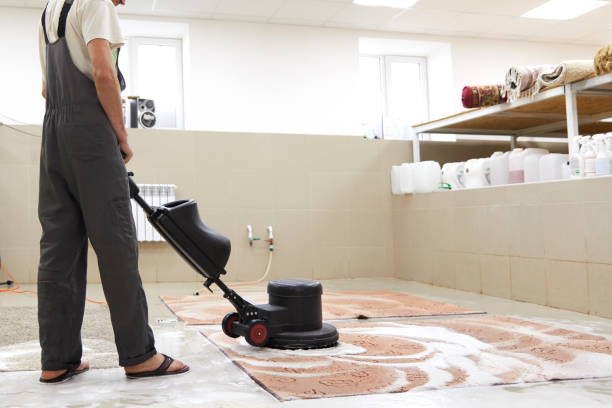 Industry managers need to be concerned about the cleaning service. This is because this activity serves to take care of the entire structure of the company, avoiding productivity losses or even equipment breakdowns. In addition, cleanliness is essential to maintain a good image for employees, suppliers, and competitors. 
Another point that makes cleaning services even more important is Covid-19. Since the beginning of the pandemic, companies around the world have had to pay greater attention to ‌cleaning in the most diverse areas of the organization. 
This scenario is even more clear in places where there is a large flow of people, such as factory yards and offices. 
And the tendency is for reinforcements with cleaning services to continue for the next few years. The high exposure to the coronavirus and all the demand in industries made managers rethink their strategies with cleaning services daily: how to optimize? Are there strengths to quickly contract maintenance for the industry? And what to evaluate when hiring a third-party company?
It is important to monitor several points. Thinking about it, we prepared this valuable content about cleaning service. We will explain how to optimize activities and give tips on how to choose a specialized company. Follow!
Cleaning services in industries: why are they important?
Besides preventing the spread of viruses, such as SARS-CoV-2, industrial cleaning is important to conserve equipment and preserve the company's structure. Without a doubt, a clean environment provides better well-being for those who frequent the company's spaces. 
With a well-done cleaning, the whole company and its employees can only gain: 
Quality of life;
Productivity and effectiveness in various tasks;
Credibility among professionals, clients and the market;
Improved interpersonal relationships between employees;
Conservation of equipment and materials;
Decrease in accidents at work;
Awareness and discipline

.
Therefore, the cleaning service is a subject that should always be on the agenda between industry managers and the facilities team. Do not wait for a proliferation of diseases or an accident at work to take care of this part, start now!
How to optimize the cleaning service in an industry
Now that you know the importance of prioritizing the cleaning service in your industry, let's give you tips on how to optimize the process. In this way, it will be possible to integrate services, streamline tasks and monitor delivery quality. Check out our suggestions:
Identify what you really need
The first step to making your cleaning area more optimized is listing the types of services you need. For example: does your industry need cleaning outside or just inside? What about the staff bathrooms? Do offices also need proper cleaning?
Analyzing the cleaning services you need will allow your team to operate better. In this sense, it is also worth developing a cleaning schedule that includes the processes to be carried out.
Determine other factors
Physical work isn't the only thing you should look at when taking care of cleaning services. Other factors also count and need to be analyzed.
We are talking about employee training, professional safety and employee opinion. 
Taking care of the team is essential in many ventures. Therefore, at least every six months, carry out an internal satisfaction survey among professionals to find out their opinions on cleaning. It is also worth promoting training for the team that will be responsible for this part. 
Use all necessary equipment and materials
One point that promotes optimized cleaning is the use of the right equipment for the activities. 
Just imagine: your team needs a certain material to clean some machinery, and it is not available. Besides delaying the work of employees, cleaning can be done incorrectly, which can damage a part or mechanism. 
In addition, the use of PPE (Personal Protective Equipment) is essential to make cleaning tasks more productive and safer. There is a huge list of safety equipment to use in the industry, such as helmets, gloves, shoes, and special clothing according to each segment and activity. 
Thinking about it, it is essential to take care of all this to ensure maximum efficiency in your industry's cleaning service. 
Choose to outsource the cleaning service
We know that running a business involves many challenges. So that you and your team can focus on achieving good results in other demands, consider hiring a company that specializes in industrial cleaning and facilities management. 
By outsourcing cleaning services, the organization will not need to deal with a series of bureaucratic tasks, such as hiring and training. The outsourced company will take care of all this, there is no need to stop a complete team for each thing. 
The result of hiring outsourced cleaning services is to gain more time and resources to dedicate to the core business of the industry. Besides avoiding labor problems and difficulty in hiring or replacing qualified labor. 
We list other benefits you gain by outsourcing cleaning and other maintenance in your industry:
Greater accessibility to professionals and equipment;

Uniformity and adaptation to the service;

Decrease in expenses

Greater efficiency in tasks
Outsourcing cleaning services: what to consider when hiring
It is not at all difficult to outsource cleaning services. However, analyze a few factors to choose the best service provider. Are they:
The range of services it offers and whether there are options for your industry;
Tasks carried out using technologies;
Costs compatible with the services;
Use of equipment and PPE;
Certificates, training, and testimonials from other companies;
Contact details.
Level of quality of services offered; 
Monitoring and management of the contract, where it is possible to measure results and monitor performance growth. 
These are the main factors to monitor when outsourcing cleaning services. Smart Cleaning Solution meets these requirements and many others in its activities. 
We specialize in providing services to industries and condominiums. With us, you can contract everything from maintenance of green areas to support services in the pantry. 
The professional cleaning team for each activity are trained, including first aid and work safety. In this way, all services become safer for both employees and the company itself. 
All Smart Cleaning Solution projects are customized according to the needs of your type of company. In this way, we are able to attend directly to the bottleneck where you have a greater deficit. 
Get in touch with us and receive your quote within 24 hours. Just access this link and fill out the form. 
Now that you know everything about cleaning services, don't waste time hiring Smart Cleaning Solution and optimizing your activities.