Christmas cleaning tips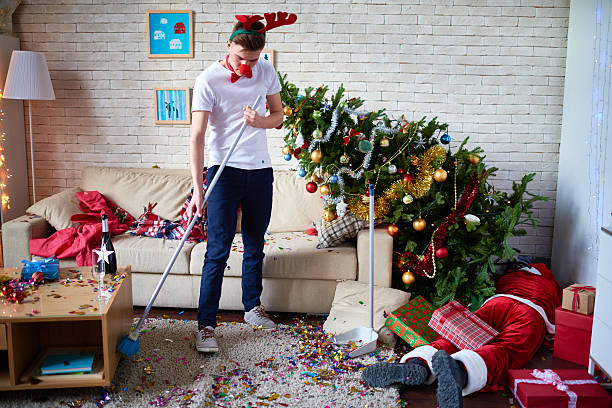 When Christmas arrives, homes decorate themselves to receive family and friends for the typical celebrations of these dates. For this reason, it is necessary to know the best cleaning tips during Christmas in order to achieve a neat and clean home.
Would you like to know how you should clean your home during the Christmas holidays? We will show you everything you need to know in this post.
Christmas tree
It does not inaugurate Christmas until the tree is assembled and decorated. Thus, before starting this task, we must clean it to remove all the dust that has been accumulating throughout the year.
The most appropriate thing is to use a dry cloth to shake all the branches of the tree or even help us with the dryer to remove dirt particles.
If due to the passage of time, we observe that our tree has lost color, we can buy a green or white spray that allows it to restore its hue or simulate snow. Remember that you must wait for the product to dry before placing the balls.
Ornaments
Undoubtedly, Christmas decorations create an original, attractive and Christmas aesthetic, standing out in the decoration of our house during this holiday. This fact makes them look beautiful and shiny as if they had just come out of their packaging.
First, we will shake them to remove the dust and, with a damp cloth in soapy water, we will clean them one by one gently so as not to damage their design. Then, we will dry them with kitchen paper.
One trick to make the decorations shine again is to give them a thin layer of glue.
Lights
There is nothing more beautiful in terms of Christmas decoration than the lights that we place on the tree or outside our home. Therefore, to guarantee their good condition, we will have to untangle them by taking great care of the bulbs, and showing patience in the knots or tangles that there are.
It is clear to note that to clean the Christmas lights we must disconnect them to avoid any accidents.
Likewise, for cleaning, we will use a dry cloth that we will rub gently on the lights.
Receiver
One of the most common plans for Christmas is to invite our relatives for lunch or dinner at home. Thus, our hall will be the letter of presentation of the house, offering the first impression to the guests.
To have our hall impeccable, we must thoroughly clean the coat racks, since there we will hang our family's coats, also, we will leave the mirrors shiny since it is likely that the guests will look at each other before entering.
If we have a mat at the entrance, we will vacuum it properly so that it does not show any type of dirt.
Kitchen
Finally, among the best cleaning tips during Christmas, we could not forget the relevance of leaving our kitchen tidy.
The kitchen is one of the most used rooms during the Christmas season since it is common to prepare dinners or meals to celebrate holidays such as Christmas Eve or New Year's Eve.
The most advisable thing is to order all the utensils that we are going to used to facilitate the preparation of the dishes and reduce the cooking time.
Similarly, it is important to clean the pantry and the freezer to make room for the ingredients and the food that we are going to prepare.
Why choose SCS Group Integrated Services as a cleaning company?
As has been observed throughout this article on the best cleaning tips during Christmas, it is necessary to carry out actions that allow us to keep our house in the best conditions to enjoy the holidays, cleaning being essential to transmit a good image. To our guests.
At SCS Group Integrated Services we have over 15 years of experience in the cleaning sector. In addition, we have the best professional team to develop any treatment with efficiency and guarantee.
If you would like to hire a professional cleaning service, ‌contact us through our website. We look forward to your inquiry!