Benefits of industrial steam cleaning
Steam cleaning is the most natural and environmentally friendly way of cleaning known because it does not require the use of chemicals. The temperature of the steam and the force allow it to descale dirt. without the need to resort to detergents.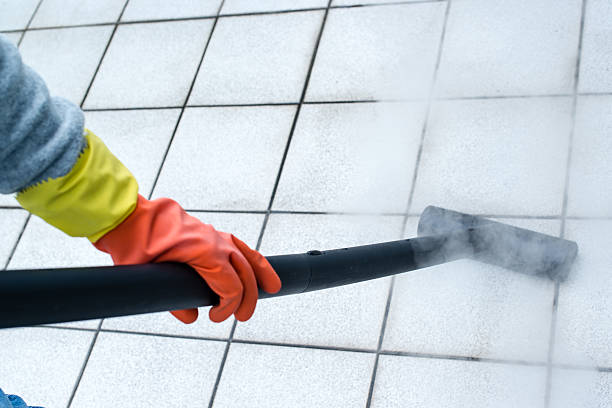 In addition, industrial steam cleaning guarantees maximum hygiene and thorough cleaning, eliminating bacteria and providing a healthy environment, since the steam does not leave residues on the surface that can cause allergies, skin irritations, or any harmful effect on health. Even allergies improve considerably with this type of cleaning since the steam keeps dust and prevents mites from spreading through the environment.
Steam cleaning using machinery such as a professional steam cleaner comprises generating steam at a high temperature that eliminates many dirt and bacteria. For decades it has been one of the most widely used industrial disinfection techniques in Australia.
Increasingly, the number of families and institutions that trust professional cleaning companies to guarantee the correct disinfection and sanitization of their homes and workplaces is increasing.
What is industrial steam cleaning?
For comparison, an industrial steamer works similarly to a pressure cooker. We heated the water in the closed boiler of the steam cleaner until it boils and steam is generated. It is advisable not to fill the tank to the brim.
Once the water boils, the steam is expelled through a steam gun, which allows the amount of steam to be dosed. The higher the steam pressure, the higher the output speed and, therefore, also more cleaning capacity.
Steam removes stubborn dirt and grease quickly. In addition, it must be taken into account that a single unit, with its different accessories, allows you to clean all types of surfaces, from marble floors, parquet, glass, joints, bathrooms, kitchens, etc…
Components of an industrial steamer
A professional steam cleaning kit has the following parts:
A tank: where the water that later turns into steam is stored.

Protective casing: This protects all the components of the industrial steamer and is generally made of stainless steel.

Power Feed – A cord that plugs into an electrical outlet.

Control panel: where the on and off switches and the switches for different functions are located.

Boiling boiler: where the water evaporates to be expelled by the machine.

Valve: which is activated automatically and lets the steam out.

Accessories: these can be placed on the outlet nozzle so that the industrial steamer has different functions such as brushing, disinfection of difficult spaces, etc…
benefits of steam cleaning
Among the many advantages that industrial steam cleaning can have, we will point out:
Steam cleaning is a sustainable and ecological cleaning that guarantees a maximum level of hygiene and disinfection and respects the environment since it does not use detergents and water consumption is not high. One liter of water can generate 1700 liters of steam, approximately.

Steam cleaning disintegrates all dirt in a hygienic way, it can even reach hard-to-reach corners, which is not possible to reach with other cleaning systems.

Steam cleans effortlessly, requiring no scrubbing.

Steam cleans in a healthier way, without detergents. It does not emit toxic gases or odors, so we can use it for cleaning indoors.

Steam cleaning is easy to use and safe: a maximum security cleaning system that does not require protection systems for its use.

Its versatility: industrial steamers can clean different surfaces: glassware, tiles, carpets, other textiles, mattresses, windows, etc…

Steam cleaning is a quick system that saves time and is economical because it does not require additional spending on detergents and chemical products.
Going to a specialized cleaning company
We can save considerable money for our pockets, as well as time that we can dedicate to our family or our hobbies. These companies have industrial cleaning equipment that is expensive and from which users can benefit in our homes by hiring a specialized cleaning company such as Smart Cleaning Solutions.
We have normally used industrial steamers in companies, shops, and all kinds of institutions. It can also be used for domestic cleaning, as we have mentioned, but it is more common to resort to this type of steam cleaning in the following environments: Health centers, factories, restaurants, school kitchens, supermarkets, hypermarkets, sports facilities, and gyms, swimming pools, hotels, etc…
At Smart Cleaning Solutions we have over 15 years of experience offering cleaning services to all types of clients. If you need to ask questions, we will be happy to help you and inform you about the use of industrial steamers for professional cleaning.