Bathroom cleaning tips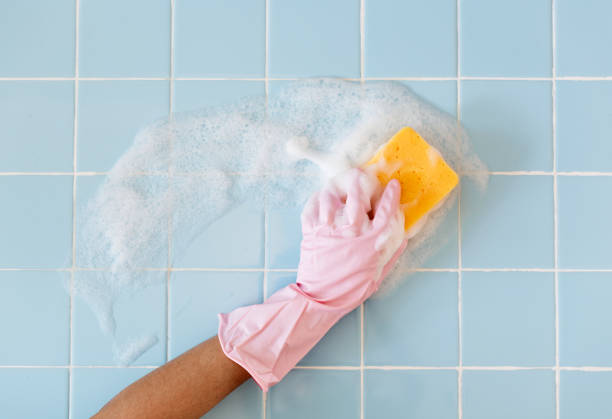 The bathroom is one room where hygiene and disinfection should predominate, because of the notable presence of germs and bacteria that can be found in said room. For this reason, it is essential to know the best cleaning tips for the bathroom.
Would you like to identify the most appropriate guidelines to keep your toilet clean? 
Bath, shower, and sink
There is no more pleasant feeling than taking a shower after a day of work or a hard session of sports, but in order to fully enjoy this moment, we must have a completely clean bathtub or shower tray.
To achieve this goal, it is best to create a solution with cleaning vinegar, soap, and water. Later, we will remove all the objects that are in the bathtub, such as the gel and the shampoo, to access all the nooks and crannies with ease. Finally, we will spread the solution that we have prepared and rub it with a sponge or a cloth.
We can repeat this action in the sink to remove dirt and maintain good cleanliness.
Toilet
The toilet must be cleaned daily, especially if several people use it. Thus, the most appropriate thing is to pour a good jet of bathroom cleaner inside and rub it with the brush.
Keep in mind that the brush that we use must have been previously in a bucket with water and bleach for at least 10 minutes, which will make all the germs disappear.
Then, we will spray the entire toilet, inside, and outside, with disinfectant and let the product act for a couple of minutes. To finish, we will wipe the entire toilet with a cloth to remove the product.
Tiles
It is very common for a layer of dirt to be created between one tile and another because of the great use we make of this room and the humidity that occurs when we shower. For this reason, it is necessary to make these stains disappear and return the tiles to their shine and initial appearance.
We will start by dipping a brush in a mixture of bleach with baking soda and we will rub exerting a little pressure to remove the dirt. Once this step is completed, we will spray cleaning vinegar on the tiles and, after a couple of minutes, we will remove the liquid with a dry cloth.
Mirrors
Mirrors play a major role in any bathroom, becoming in many homes or businesses a decorative element that stands out in the room. This implies that our mirrors must always look bright since fingerprints, marks, or stains will transmit a bad image.
Although a glass cleaner is traditionally used to clean mirrors cleaning vinegar allows a much more professional result. Similarly, we will not use kitchen paper for drying, but we will use a completely dry cloth.
I usually
Finally, to know all the cleaning tips for the bathroom, we could not forget to mention how the floor of this room should be cleaned.
The first step will comprise sweeping to remove the dust and the rest of the elements that may dirty our bathroom. After this action, we will fill a bucket with warm water and spread a floor cleaner that includes disinfectant and is scented.
In this way, we will avoid the accumulation of lime, we will eliminate stains on the floor, will sanitize the room, and offer a pleasant smell that will permeate the room.
Why choose SCS Group Integrated Services as a cleaning company?
As has been observed throughout this post on the best cleaning tips for the bathroom, through a series of actions we can maintain our toilet in optimal hygienic conditions, guaranteeing the healthiness of said space and eliminating the pathogenic agents that may exist.
At SCS Group Integrated Services Cleaning we have over 15 years of experience in the cleaning sector. In addition, we have the best professional team to develop any treatment with efficiency and guarantee.
If you would like to hire a professional cleaning service, contact us through our website. We look forward to your inquiry!