Advice for correct disinfection and cleaning of toilets
In any public facility, such as in the home, sanitary fixtures are among the elements that can contain a higher concentration of dirt and bacteria.
The humid environment favors the proliferation of many microorganisms harmful to our health. To this must be added most times an excessive concentration of limestone in the water, and the use of aggressive products, which gradually make the original shine of the bathroom surfaces disappear, making cleaning less visible.
In this post, we will see some simple tips, tricks, and products to make toilet disinfection even more effective.
If you are looking for a professional cleaning company that deals with the disinfection and cleaning of toilets, contact us for a completely free quote!
Tips for proper toilet cleaning
When it comes to cleaning the bathroom, these should be the keys to success:
Good ventilation in bathrooms avoids excess humidity, and of course the bad smell that generates not only the use, but also the mold produced by those unsightly and unhealthy fungi that proliferate in humid environments, generally settling in the joints of the surfaces of the sanitary ware, tiles and partitions. Therefore, adequate ventilation will keep wall and bathroom surfaces drier, helping to keep tiles clean and dry for longer.
The cleaning action does not necessarily imply a disinfection of the surfaces, since the only guarantee for a disinfection of sanitary ware is the use of procedures or products that kill microorganisms harmful to our health. The fact of removing visible dirt using water or soap and a cloth will therefore not eliminate the most resistant microorganisms, which will disappear only with disinfection.
When cleaning toilets, proper disinfection is essential. Professional cleaning treatments use specific certified products and professional machines. When using hygiene and disinfection products for cleaning toilets yourself at home, the most important thing is the exposure time, to allow them to take effect properly. Only after waiting, you can remove the product, rinse until it is completely removed and dry with a cloth, to completely remove the moisture. 
Tricks for daily toilet cleaning
Over time, glazed porcelain sanitary ware usually starts to show dark spots, usually around the sink drain or inside the toilet. There are some tricks and products that can help correct this unsightly appearance, which we will tell you about in the following sections.
Number of products for disinfection and cleaning




For correct sanitization and cleaning, you don't need many products. Use a single detergent to clean toilets, whether they are sinks, bidets, bathtubs or toilets since except for the shower tray, all objects are usually made of the same material.
Sanitary ware without machines




If the sanitary ware does not show dirt stains, it will be necessary to use a cloth soaked in a disinfectant detergent, leaving it to act for at least five minutes, then remove the product by rinsing with water until no traces remain. Finally, it will be necessary to dry the surfaces to remove the residual humidity and obtain a shine.
Sanitary ware with stains




If the sanitary ware has embedded stains, use a scourer and apply the disinfectant detergent, leave it to act anyway, then remove it with a cloth and water until the dirt and product remains are completely eliminated.
Removing stubborn dark spots




If toilets are cleaned properly, stains will not appear, but during the holiday season a leaky tap or some leak in the toilet tank can cause dark spots on our sanitary fixtures. To remove stains, you can apply a mixture of salt and turpentine by scrubbing with a toothbrush if the stain is inside the toilet, or with a sponge if the stained surface is on any of the other fixtures.
Resistant residues on the bottom of the toilet.




If you find dark spots on the bottom of the toilet when you return from vacation, apply a good amount of white vinegar cleaner and leave it to work overnight. In the morning, add the baking soda and scrub well with the toothbrush.
Traces of rust




If after some time, when we come back we find traces of rust while cleaning the toilets, it will be necessary to apply a mixture of salt and lemon on the stains by rubbing. Leave to act for some time, rinse, then proceed with the usual cleaning.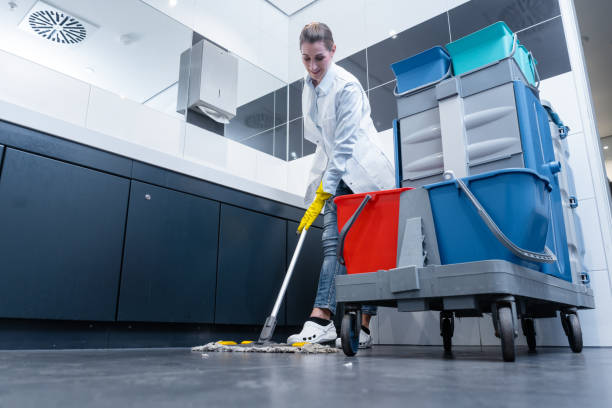 To remove stains from the toilet it is important to use the correct products and wait for the right time for action.
Products for the disinfection and cleaning of toilets
As we all know, there is an endless range of commercial toilet cleaning products, so we will focus on those commonly found in our homes.
Vinegar
White vinegar for cleaning, or acetic acid, is a natural disinfectant, and an excellent ally when it comes to removing encrusted stains caused by limescale present in the water, acting with maximum effectiveness as a fat thickener.
Sodium bicarbonate
It acts as an abrasive cleaner, and disinfectant, and mixed with vinegar or lemon, it produces effervescence, helping to descale dirt during toilet cleaning.
Hydrogen peroxide
It is an excellent disinfectant that you can use to clean toilets, instead of products with chloramines or bleach. Hydrogen peroxide is very useful for eliminating the mold that can appear on the joints of sanitary ware.
Our recommendations for disinfecting and cleaning toilets
The cleaning of the toilets must be done daily, to avoid the accumulation of dirt and the need to use products that are aggressive with the environment, and our health.
Never mix bleach or ammonia with other products or detergents, as they can produce chemical reactions that can endanger your health through external contact and inhalation.
If you are interested in learning about professional cleaning procedures in the company, and you are looking for a partner who takes care of cleaning the toilets, contact us for a completely free quote.